Pretty straightforward, I compiled a list of movies wherein I could almost taste the food on the screen or where I felt my stomach growling. Comment with your favorite food scene below :D
Here's a recipe for Ratatouille that's based on the movie:
Ratatouille from smittenkitchen.com
Ooh, I just found a site where they posted recipes of all the food that was featured in the movie!
Raspberry Lemon Cream Cake - Yum!
(a couple of pointers: eat small slivers of ginger in between sushi pieces to cleanse your palate; it is ok to eat big pieces in two bites; dip the fish side in soy sauce so that the rice won't fall apart, or you can use a ginger sliver to "paint" soy sauce on your sushi).
Not included are the various scenes where they dine in opulence, luckily I found some stills online:
I wonder how long it took to set up each of these scenes, it seemed like every tiny detail was well-thought out and add to the overall look without being overbearing. I've always been fascinated with period films and all the work that goes into making them as authentic as possible (unlike the film "Love and Other Drugs," where in the first scene we're made to believe that it's 1996 yet Jake Gylenhaal's character is selling huge flat screen TVs that were not available until 2003. My suspension of disbelief went *poof*).
(Interestingly, one of the oft-quoted phrases, "Qu'ils mangent de la brioche" or "Let them eat cake!" has been wrongly attributed to M. Antoinette; there are no historical records nor evidence of her having said that.)
Hermione: Will you stop eating, your best friend is missing!
If you recall, one of the first bonding moments between Harry and Ron was when Harry bought all those treats in the train and shared them with Ron :)
Holding all the giddiness in to look like a respectable 26 year-old
So strong was the influence of food in the books (and subsequently, the movies) that they just had to include Honeydukes and its famous treats (chocolate frogs, Bertie Bott's Every Flavor Beans, etc.) in the theme park. I had to clamp my wallet shut and say no to my inner child plenty of times, it was easy to get carried away and buy a bit of everything. One of my biggest regrets though, is that I didn't get to try a bottle of Pumpkin Juice (which is actually a mix of apple, apricot and pumpkin puree).
Bonus: a video on how to make Harry's favorite dessert, Treacle Tart!
Image taken from here
Honorable Mentions:
Bekir Effendi, the reputed inventor of Turkish Delight, first set up his sweet shop in Istanbul in 1776. It is still open to this day :)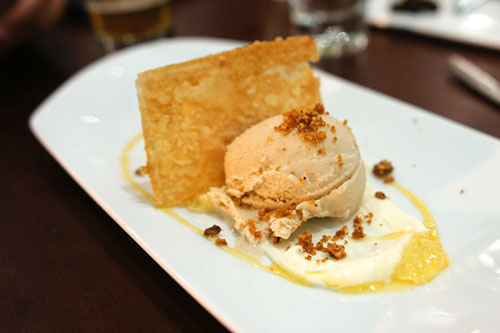 Reimagined Turkish Delight from Zaytinya, courtesy of kevineats.com
An actual still from the movie found here